Editor In Chief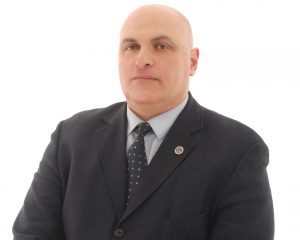 Zurab Chkonia
Zurab Chkonia was born in Tbilisi in 1972.
Zurab Chkonia graduated from the Faculty of Law of Tbilisi State University in 1996 with specialty in Law.
Worked at Tbilisi Bank-Financial and Management University as Senior Teacher of Private Law at Law Faculty in 2010-2012.
Worked as Aviation University of Georgia as Teacher of Private Law at Law Faculty in 2011-2012.
Worked at Caucasus International University as Assistant-Professor of Private Law at Law Faculty in 2011-2015.
Was Invited Lecturer of Private Law at Caucasus International University, at Law Faculty in 2015-2017.
Worked at University of Europe on the position of Associated Professor of Private Law in 2016 -2020.
Zurab Chkonia was a senior researcher at the Scientific Research Institute of the European University in 2015-2020.
He was the Editor-in-Chief of the international scientific refereed law journal "Law and the World" of the same institute in 2015-2019, and  Editor from 2019 to August 16.
From 2019 to the present, he is the Editor-in-Chief of the international scientific journal "Herald of Law".
Held the academic position of Professor of Private Law at Millenium University in 2020- 2021.
In 1992-1993 and later in 1995-2001, he worked in internal affairs bodies, including on leadership positions.
He had been attorney since 2001.
Was attorney at law firm "Kordzadze and Svanidze Attorneys" in 2001 -2002.
Was founding partner of law firm "Chkonia ans Partners" in 2002-2005.
Worked as the Head of the Legal Department of the State Material Reserves Department of the Ministry of Internal Affairs nn 2005-2006.
Has been the member of Georgian Bar Association since 2006.
Is founding partner of "Law Firm Chkonia ans Company" since 2006.
In 2006-2012, Worked as a Lawyer and management Trustee in quality management issues (ISO) of the construction company "Kapitel Invest" LLC in 2006-2012.
Was an arbitrator of the permanent private arbitration "Regista" in 2009-2010.
From April 2014 to the present, has been one of the founders and Chairman of the "Union of Law Scientists" .
From 2012 to the present has been the founder and director of the "Caucasus Lawyers' School CLS".
From September 20, 2022 until now, has been working as a consultant of the LEPL "Spatial and Urban Development Agency".
Zurab Chkonia is the author of 11 scientific articles and co-author of book "Commentary on the Law on Enforcement" (volume I, 2018). Has participated in 7 international conferences. Zurab Chkonia is conducting research regarding the Georgian last names for years. He is the author of the scientific book "Genealogy of the Djeladzes" (2023).
Zurab Chkonia has passed the qualification exam of judges with common specialization. Has spouse and two children.